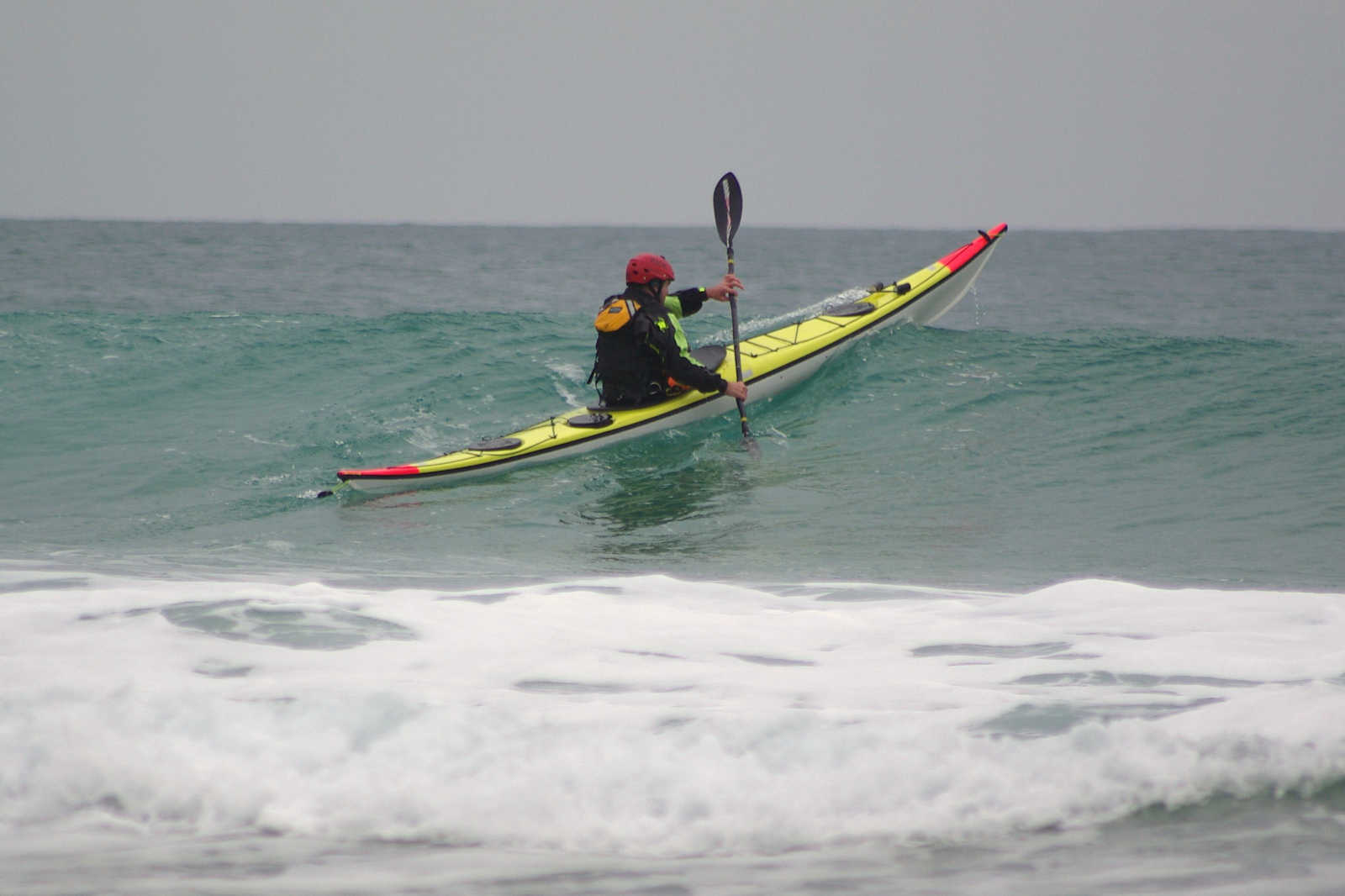 Best for: playfulness, guiding and coaching
Sizing: up to 2.0m/6'6″ tall. Medium or large build
Max shoe size: UK11/EU46
My take on the Romany Surf…
It's still my favourite composite sea kayak for really big conditions. It turns quickly and easily. Coupled with awesome stability, it has good acceleration and is well balanced in strong wind and big waves. Extended thigh braces are incorporated into the cockpit rim, providing you with extra grip. The large keyhole makes it very easy to get in and out quickly. These attributes make this kayak ideal for playing in tidal races, broken water and surf. A great boat for guides, coaches and anyone who loves to play in the rough stuff. If ever a boat was designed to flatter, this is it. You don't need to be huge to fit this boat – padding out with foam is simple and remember the seat can be raised if required. I simply love this boat!
My personal experience of paddling the Romany Surf

I don't think I will ever find a better composite sea kayak for playing around, or indeed for leading a group.

I'm on my second of these amazing boats. This time it is a full carbon-kevlar construction in black. This kayak is still in great shape following heavy abuse during rocky landings and multiple rescues. I never found the need to use a skeg on my first Romany Surf so for simplicity this one is skegless. Saves a little weight and is one less thing to worry about.

Is there a downside? No. It's perfect.
Here's how Sea Kayaking UK describe the Romany Surf
A responsive kayak that surfs well for the medium to large sized paddler. The hull design offers high stability and the shaped foredeck allows for large feet up to size 11/12 (Europe 46,5). Designed for rough water and ease of handling in conditions. The kayak has a wider keyhole cockpit than any other British made fibreglass sea kayak and has more volume in the rear compartments than the Romany Classic. It offers extra leg room due to a raised area either side of the cockpit. The seat can be set higher for a smaller paddler and the raised area in the front deck can be padded if needed.
Dimensions
Length: 492 cm
Width: 55 cm
Depth: 34 cm
overall volume: 314 litres
front hatch volume: 64 litres
cockpit volume: 165 litres
day hatch volume: 42 litres
rear hatch volume: 43 litres