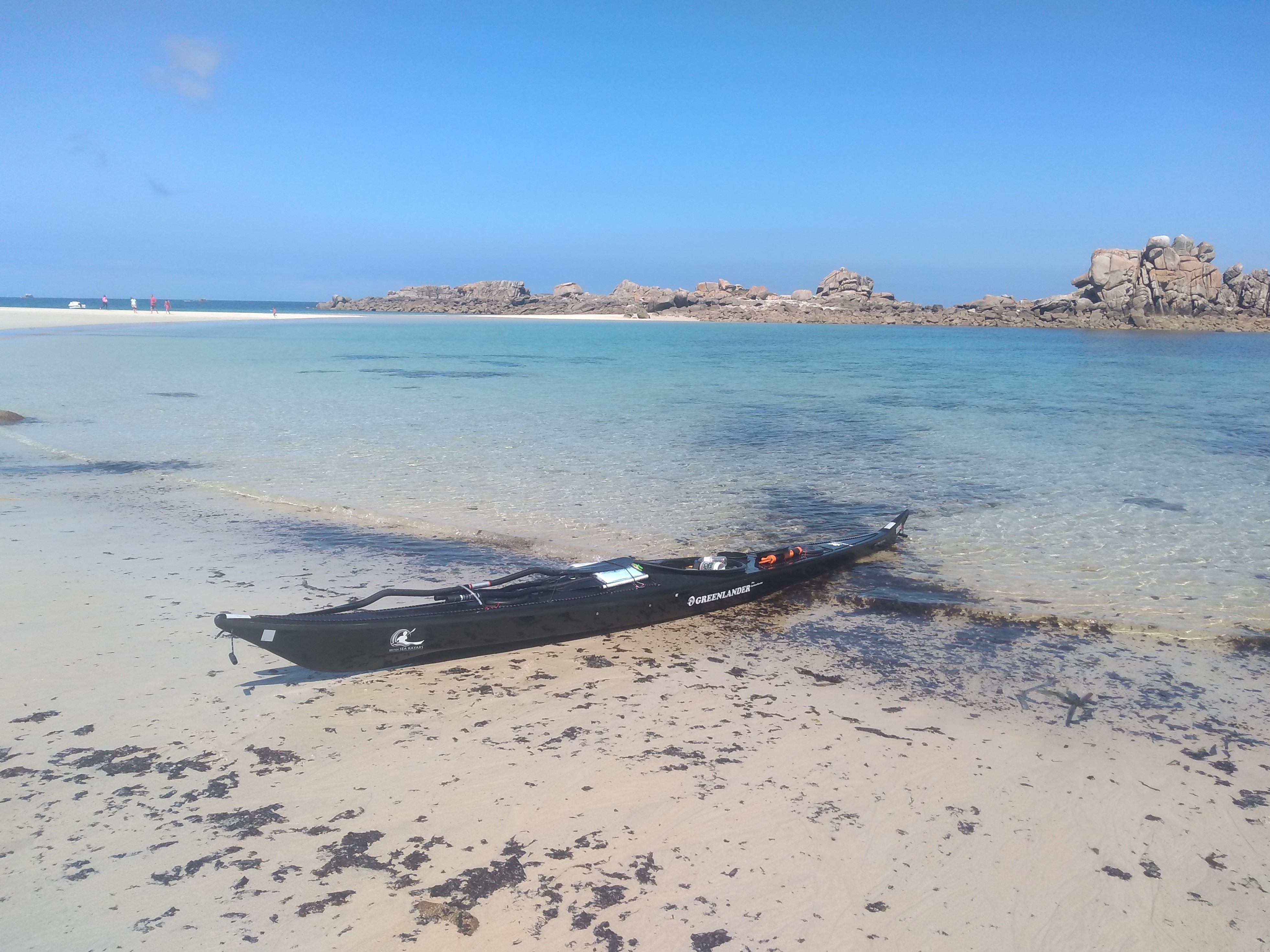 Expeditions, rolling.
Sizing: up to 1.83m/6'2″ tall. Medium/large build
Max shoe size: UK11/EU46
My take on the Greenlander Pro…
This hard-chine sea kayak shares the same heritage and tradition as the Greenlander and was conceived as an expedition kayak for the lighter or medium-sized paddler.  It is also suitable for the heavier paddler who prefers a more traditional hull shape. The keyhole cockpit makes access straightforward, perfect for awkward landings when you might need to get in or out quickly. The low front and rear decks keep wind effect to a minimum, reducing paddler fatigue in advanced conditions. The hull has been stretched out and the keel flattened, making this sea kayak even better for long distance, straight-line paddling.
This is a sea kayak for those who value seaworthiness above everything else, and who choose to glide quietly past the rocks.

My personal experience of paddling the Greenlander Pro

It's long, elegant and certainly fast. It looks the part and I really wanted to enjoy paddling this kayak. I took it for a 30 mile tip along the north Cornwall coast, carrying all my usual safety kit. In the bouncy conditions I was able to experience some of the  true capabilities of this traditional-style kayak. It rides high and dry, even over very broken water. It was surprisingly easy to turn and I was able to nip through some challenging features without drama, partly thanks to great acceleration. Rolling in rough water was easy.

Is there a downside? I felt very "on top of the water" the whole time and wasn't able to roll smoothly in flat conditions. It doesn't feel particularly low volume to me and may be better with more weight on board.

Update on the 19th July 2019 – Having spent the last seven days using this kayak for my solo Brittany circumnavigation, I can say that this is a superb choice for an expedition. It's fast, predictable and very stable in all conditions. I've felt confident to push hard in the agitated waters and strong tidal waters that are characteristic of this coast. It's an unsung hero and a sea kayak that is not fully appreciated by many, including me until now. Hats off to Nigel Dennis for designing such a sweet, well-mannered and elegant craft. I'm now a huge fan!
Here's how Sea Kayaking UK describe the Greenlander Pro
This expedition kayak is ideally suited for the medium sized paddler and the low volume helps the lighter kayaker control the kayak in windy conditions. The Greenlander Pro has evolved from the Greenlander but the hull is 2 inches (50 mm) longer and has a straighter rocker line. The stern has a traditional Inuit up turn. We believe the Inuit kayakers chose this design, as it would have been relatively easy to change the weather cocking characteristics of the kayak by changing the size of the upturned stern.
Length: 540 cm
Width: 54.5 cm
Depth: 33.5 cm
overall volume: 296 litres
front hatch volume: 66 litres
cockpit volume: 145 litres
day hatch volume: 34 litres
rear hatch volume: 51 litres