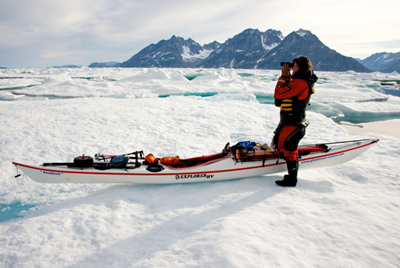 Best for: all-round sea kayaking, expeditions
Sizing: up to 2.0m/6'6″ tall, Medium/Large build
Max shoe size: UK12/EU47
My take on the Explorer-HV…
The Explorer-HV is famous the world over as an expedition kayak and shares all the same great attributes as the regular size model. The only difference is cockpit volume. If you have longer or bigger thighs, prefer a slightly more raised leg position or simply need a bit more wriggle room in the cockpit you should try it. Alain Antognelli chose this kayak for his adventures in Greenland with his wife, Nathalie. Check out the layers – no wonder he needed a bit of extra space. Read more about their incredible life here.
It's easy to recognise the Explorer-HV – it has characteristic "knee bumps" just forward of the cockpit rim. This provides some of the extra volume in the cockpit. The hull is just the same as the regular size Explorer, so you'll enjoy the same dependable handling and performance.
It's just as fast and tracks straight when you need it to. It excels when you're paddling downwind and waves, accelerating quickly and inspiring you to go faster and faster. In rough water, rock-solid predictable stability will encourage you to push your limits and when you find them, you'll roll back up with ease. Smooth curves help the deck to shed water and well-placed deck lines retain essential kit where you need it. This is the sea kayak for the explorer in you.
Here's how Sea Kayaking UK describe the Explorer-HV
Designed for rough water and covering distances, this expedition kayak is manoeuverable, direction stable and able to carry higher loads. Designed to fit the large paddler. The volume in the cockpit has been increased by adding 1.5″ (3,8 cm) of extra height between top of the seat and underside of the deck. Also, a raised area either side of the cockpit has been added to facilitate more leg room. The hull has not been altered.
Length: 533.5 cm
Width: 56 cm
Depth: 35 cm
overall volume: 319 litres
front hatch volume: 73 litres
cockpit volume: 152 litres
day hatch volume: 38 litres
rear hatch volume: 56 litres