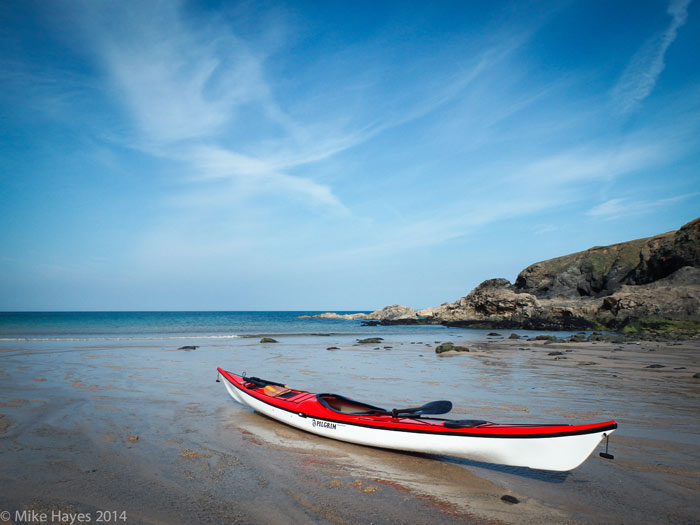 Best for: all-round activity including expeditions
Sizing: up to 1.6m/5'10" tall. Slim build
Max shoe size: UK9/EU44
My take on the Pilgrim Expedition…
Another model that's been specifically designed for the more slender among you, this is a real greyhound. It's fast as a result of the long waterline and narrow hull. Once again, this is a very easy boat to roll. Just like the Pilgrim, knee bumps just forward of the cockpit provide extra wriggle room. The shorter Pilgrim cockpit rim is usually chosen by the more petite paddler. If you're taller and find this cockpit a little restrictive you can specify the long cockpit version. It's much easier to get in and out. In either case, the comfortable thigh braces that are integral to the cockpit rim will always be in the right place, providing excellent control when you find yourself in bouncy water.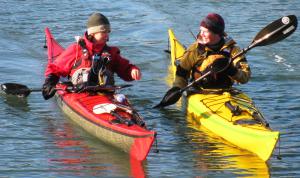 It will swallow up all the kit you take on multi-day trips. It's been used by paddlers to carry out extended expeditions lasting several weeks. Strong and sleek, this is a sea kayak that will get you there in all conditions. It will suit leaders and coaches too, offering speed, acceleration, solid stability and predictable handling in rough water. Women and men alike find this a highly rewarding choice, but you do need to be of slender build to get the best from it.
The Pilgrim Expedition can be  fitted with two sizes of seat designed specifically to work with the reduced width of this kayak.  One is a slightly smaller version of the high-performance seat than fitted to the other sea kayaks in the range. The second is much narrower and has a different profile.
My personal experience of paddling the Pilgrim Expedition

I haven't spent more than an hour in the Pilgrex but that was all I needed to understand why this kayak is so popular. It's very slender and figure-hugging. For me, it was like wearing "too-tight" jeans. I got into it but could hardly move! However the result was outstanding connectivity and I was able maintain very good edge control. The low deck and narrow hull  makes it effortless to roll.

Is there a downside? Yes – even if you are able to physically fit into this kayak, you need to be a lightweight or it will suffer from "squat". The stern will immerse too much and it will affect speed and handling. It's possible to overcome this by putting extra weight in the front compartment but you'll probably be better off with a Latitude.
Here's how Sea Kayaking UK describe the Pilgrim Expedition
The Pilgrim Expedition is a slim, fast kayak with increased carrying capacity for camping expeditions. The kayak is specifically designed the smaller paddler and the taller and slimmer kayaker at the same time. This multiple-fit option is due to a raised area either side of the cockpit.
Length: 519 cm
Width: 50 cm
Depth: 30.5 cm
overall volume: 283 litres
front hatch volume: 72.5 litres
cockpit volume: 130 litres
day hatch volume: 38 litres
rear hatch volume: 42.5 litres