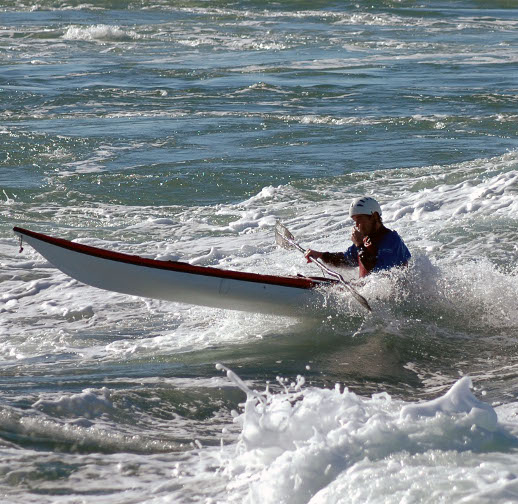 Best for: playfulness, day trips, light overnight camping:
Sizing: up to 5'6″/1.6m. tall. Slim or small build
Max shoe size: UK7/EU41
My take on the Romany-LV
The Romany-LV is a very nimble and robust sea kayak that shares all the great attributes of the other boats in the Romany range. This boat loves to play in close proximity to the shoreline or any moving water environment. Carve up the surf or hop those rocks with confidence – there's plenty of volume in the bow to promote fast re-surfacing when you need it. You'll be in total control thanks to the excellent connectivity you'll feel with the smaller, lower cockpit. It's the perfect sea kayak for playtime but there's just enough room for an overnight trip if you travel light. Get someone else to carry the sundowners!
My personal experience of paddling the Romany-LV

Unbelievably, I once actually paddled one of these, during a training day run by Jeff Allen. It was the only kayak on offer. Somehow I managed to squish myself into this tiny kayak – seemingly impossible for someone of my build. (I'm 80kg and 6ft tall) However, having less than most in the leg department and only one foot meant I was (just) able to fit. Although extremely painful after a couple of hours, I did get to experience the kayak first-hand. The small cockpit gives very good grip and the front deck is low, making rolling very easy. It was great in the rough conditions of the day. So if you are one of those people who like to be really tight in a kayak, don't rule it out. But you have been warned – it's tiny!
Here's how Sea Kayaking UK describe the Romany-LV
A manoeuverable and direction stable kayak for the very small paddler. Designed for rough water and ease of handling in conditions. The kayak is more stable than the Pilgrim and offers less room for the legs. The kayak has been fitted with a new keyhole cockpit rim customised to fit small paddlers. The rim is 3.5″ (87mm) shorter than the Romany Classic and 1″ (25mm) narrower with the leg braces brought back towards the paddler. It has less volume and a re-designed front deck.
Length: 487.5 cm
Width: 54.5 cm
Depth: 30 cm
overall volume: 244.9 litres
front hatch volume: 64.5 litres
cockpit volume: 103 litres
day hatch volume: 36.8 litres
rear hatch volume: 40.6 litres