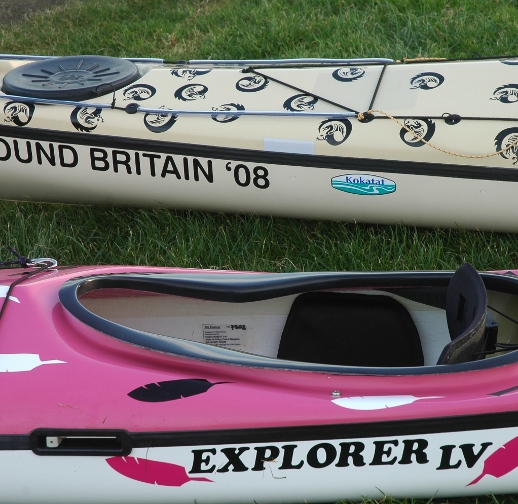 Best for: day trips, load carrying
Sizing: up to 1.7/5'6″ tall, slim/medium build
Max shoe size: UK8/EU42
My take on the Explorer-LV…
The Explorer-LV still ranks as a world-famous expedition kayak but the volume has been slightly reduced in key areas, resulting in a good fit for the more slender paddler. Just like it's bigger siblings, it is an all-purpose sea kayak that is capable of covering big distances and carrying everything you need. In 2008 Cath Tanner took her famously "pink with feathers" boat for a circumnavigation of the UK with Roland Woollven. She stills owns and loves it to this day.
The Explorer-HV has the same smooth hull form as the bigger Explorers. In fact, there is little difference in the shape or carrying capacity. However, by reducing length, height and therefore volume in the cockpit, extra space is found in the front compartment. More room for your camping kit and less water to empty out when you take an unscheduled swim!
If you are a slimline paddler then the Explorer-LV will reward you with the same classic handling and acceleration as all the models in the Explorer range. It's the natural choice for adventure.
Here's how Sea Kayaking UK describe the Explorer-LV…
Designed for rough water and covering distances, this expedition kayak is manoeuvrable, direction stable and can carry higher loads. Made to fit the small paddler by designing a smaller cockpit and less volume than the standard Explorer, but retaining the same hull shape. This kayak is more stable than the Pilgrim Expedition and will support a heavier paddler.
Length: 532.5 cm
Width: 54.5 cm
Depth: 31 cm
overall volume: 282 litres
front hatch volume: 80 litres
cockpit volume: 110 litres
day hatch volume: 37 litres
rear hatch volume: 55 litres