Colours
Our standard colours are strong, vibrant, and show up well on the sea. The most popular colours are usually held in stock which means you won't have to wait to get afloat.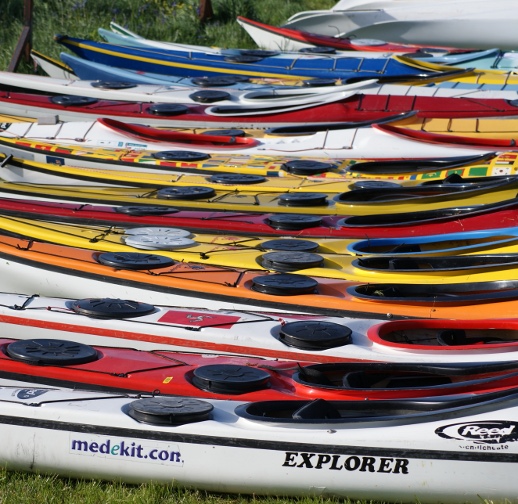 However, some of us like to choose our own colour combinations. Some are truly beautiful creations and show the owners to be of great aesthetic taste. Others are outrageous extravaganzas of glitter and kitsch but all are unique.
SPARKLES
Bring on the glitter- it's time to shine! If you want to add sparkles to your deck, your kayak can be enhanced with a variety of colours in either metalflake or alphajewels.

Remember that this will add to the overall weight. It's also impossible to make a repair invisible so think carefully.
Artwork
The team at Sea Kayaking UK love to produce something special and many customers have taken the opportunity of using their sea kayak as more than just a vehicle…  so let your imagination loose!
Click here to go to the Sea Kayaking UK colour chooser (make sure you have enabled Flash Player in your browser) and choose a deck, seam and hull that says what you want to say about you. Take your time – it's fun!
The Romany Sport has a tough roto-moulded deck and hull in orange, yellow, blue, pink, green and red. Mix and match the composite cockpit rim and seat colours, available in black, white, blue, red, yellow, orange and green.