Standard across the whole Sea Kayaking UK range are features that ensure model is safe, seaworthy and comfortable. Below you will find details of how this is achieved.
Construction
Each standard kayak is constructed from chop strand mat, woven cloth and polyester resin. The hull is laminated with a  quality control mat. The deck is of a lighter overall layup than the hull. Curved forms achieve strength without adding weight and sharp edges are avoided, as these create weaknesses o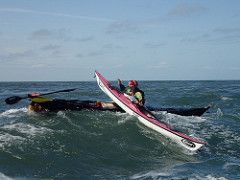 r stress points. The front deck is reinforced close to the cockpit, preventing damage when  rescuing fully laden kayaks. During the laying-up process, an internal reinforced keel is built-in. Internal and external glass/tape seams bond the hull and deck together. These are much easier to repair and stronger in the long term than other methods, such as H-channels. The standard lay up has been designed for all levels of kayaking. If you are working through the BCU Star Awards scheme, or operating as a guide or coach, then this is probably the best option for you.
Toggles
Essential safety equipment, these are fitted to the front and back of the kayak. They are for you to hold onto if you capsize, or for others to hold onto during rescue. Some people prefer them to be stowed with elastic on the deck but on Sea Kayaking UK kayaks they are left dangling, which makes them much easier to grab with cold hands when you are in the water and awaiting rescue! Remember, toggles are not designed for carrying your kayak, especially if it's loaded.
Decklines and fittings
Strong lines and fittings are essential for effective rescues and towing. Elastics are useful for securing spare paddles, deck bags, maps, pumps and all sorts of other stuff we all seem to carry. The deck fittings are recessed to ensure knuckles and fingers don't get caught or trapped and to avoid damage to other kayaks during rescues.
Compass recess
A compass recess is provided, suitable for a  Silva 70P compass (or equivalent).  It is positioned forward of the front hatch, making it easy to read. A compass is useful for effective navigation at sea at all times. In fog or at night it is indispensable.
Hatches
Front and back hatches allow storage of kit that you want to carry for you trip. A day hatch (just behind the cockpit) provides plenty of space for all the safety essentials you will want to carry, plus room for snacks, drinks and cameras. A proper day hatch is an essential if you plan to take BCU Star (Sea) Awards.
The hatch rims are chemically bonded to the deck. The rubber hatch covers are easy to get on and off but most importantly they keep the water out. Every kayak comes with a round front hatch, back hatch and smaller day hatch (no day hatch on the Inuit). The back hatch on the Pulse is oval. The Romany Sport hatch covers are specially formulated with a higher percentage of silicone, resulting in a more stretchy and pliable cover.  This improves fit and grip on roto-moulded rims. Fitting a short tether to each hatch cover is sometimes desirable and this can be done when you collect your new kayak if required.
Thigh braces
These are formed as an integral part of the glassfibre cockpit rim and provide a comfortable and secure place to "lock into" when needed. The position of thigh braces makes a big difference to comfort and also the ability to "roll" effectively when required. Uniquely in the world of roto-moulded sea kayaks, the Romany Sport also comes with composite cockpit rim and integral thigh braces. This guarantees the same great connected feeling as a composite kayak.
Note – the thigh braces attached to roto-moulded cockpits produced by other manufacturers often flex. The result is a rather vague connection to the boat which will affect boat control in boisterous conditions and can impede effective rolling.
Seats
Composite
The High Performance Glass seat is fitted as standard to all the kayaks. This seat is tilted forwards very slightly which has a positive effect on the pelvis. Tilting aids trunk rotation which in turn helps you achieve 1) a better forward paddling stroke and 2) greater ability to twist the spine, aiding draw strokes and other side-focused control strokes. The integral raised area supports the lower back. This is padded with foam. A fully adjustable padded back band works in conjunction with the foam pillar behind the seat to provide additional lower back support without restricting rotation. Hip pads add to the overall comfort. You can tailor the setup to find your most comfortable and ergonomic seating arrangement. A foam pad, placed between the hull and seat, prevents stones from becoming trapped which could cause  damage to the underside of the kayak.
There are two sizes available as standard. The regular seat is supplied as standard unless you request the smaller one.
Small – being suitable for the small or slimmer paddler size UK8-10/EU 36-38 or less (female) or approx 30″ waist (male)
Regular – for anyone else
Foam
The foam seat is 5mm lower than the glass seat and the boat will be more stable as a result. You can use foam shims of different shapes and sizes under the seat to tilt or raise it to suit you.
Adjusting seat position
The composite seat has 25mm of adjustment from front to back and 25mm height adjustment. Moving it is simple and all you need is a 4mm hex key but if you want help doing this, just ask me to do it when you collect your new kayak.
If you are of slight build you'll find moving the seat forward may improve boat balance by immersing the bow a little more and will ensure consistent handling at all times This is a much better solution than trying to remember to load some extra weight into the front of the boat. If properly trimmed front to back, your kayak will be easier to handle in windy conditions.
Footrests
The aluminium track footrest system from Yakima is fitted as standard. This system has been in use for many years and is a trustworthy and robust arrangement. It's fully adjustable using your feet – no need to remove your spray deck at sea if you want to change the position. This a great safety feature. You need good footrests for efficient forward paddling because every stroke starts from the ball of the foot. Strong footrests are essential for good kayak control in lumpy water. You will grip the kayak using a combination of foot pressure and upward pressure through the thighs. With a trustworthy system under your feet your confidence and skills will grow.
The Kayaksport Navigator rudder system is fitted to the Pulse. This proven system uses "gas-pedal" style footrests to provide accurate steering. The rudder blade is available in two lengths and you can choose which works best for the sea conditions you paddle in. A failsafe kick-up prevents accidental damage on rocks and the blade stays flat on the back deck when not deployed. You can specify a different system if you prefer.
Skegs
Fitted as standard to all kayaks except the Pulse. The Kari-Tek wire skeg system has proven to be the most reliable and robust system on the market. It requires little maintenance and is simple in use. The control box fits flush in the seam close to the cockpit, where it's easily to hand and you won't catch your knuckles on it. The skeg blade is strong and simple – it pivots at one end and is easy to replace if required. I recommend fitting a short length of cord on the end of the blade – if the blade becomes jammed by dirt or stones it's easy to gently pull on the cord and clear the blockage. I can fit this for you free of charge – just ask!
Bulkheads
Fully bonded to the hull, they provide watertight barriers to each compartment. A special feature on all the composite kayaks in the range is the sloping bulkhead behind the seat. This makes it very easy to empty the water out of the cockpit after a capsize. You  only need to lift the kayak a little at the bow to get all the water out. Rescues are quick and easy.
Colours
You can choose from a very wide range of colours for your new kayak. Please take a look at the Sea Kayaking UK Colour Chooser. However, I usually have a variety of models in stock if you're in a hurry to get your hands on a new kayak and are not too fashion-conscious!