Coaching methods need to be relevant
The coaching you receive in the early stages of any activity will help you to form solid foundations upon which all other skills are developed. To be coached by another amputee has huge advantages. Why? Because all paddlers use their legs to connect with the sea kayak. Legs are a key factor in the sequence of kayak control that is body, boat then blade. So if you (like me) have less than the standard number of legs, you will need to learn to do things in a different way to achieve that control. If you are in control you will be happy and confident. You can then build your skills and set your own limits.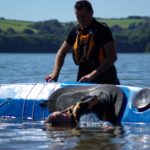 Recently I have been coaching an above-knee amputee whose has already mastered a balance brace, one of the fundamentals of Greenland rolling. I am able to sense what he is feeling. As a result, he is moving forward towards his goals.
There are many obstacles to sea kayaking that an amputee must overcome to be as good as someone with two legs. I have found ways to overcome many of them and can share these ideas and methods with you. If you think you can benefit from my approach just contact me for an initial chat.
Can amputees benefit from standard coaching courses?
In the beginning I went to the local canoe shop and bought a kayak and everything else the nice chap said I needed. He suggested I might find some coaching useful and pointed me in the direction of a club but being a confident and somewhat arrogant sailing instructor I just nodded and went off to get myself into a few scrapes.
After a few solo trips that could have gone badly wrong I took a reality check and saw sense. I enrolled on a course and subsequent long-term training with a well-known local sea kayaking training centre. Although many parts of the course were valuable, I have reflected on this experience and believe it could have been better. It's now obvious that the coach was unable to adapt the training to suit me. We simply followed the syllabus. For example, I was encouraged to capsize and exit from the kayak, then to try to climb back in "cowboy-style" over the back – a move that is extremely difficult with only one leg in the water! This was frustrating and exhausting for months. Of course, the Star Awards insist on an effective self-rescue so we persisted.
What do I mean by relevant?
Why not recognise that the most effective self-rescue for an amputee is to roll? Hindsight is a wonderful thing, but so is experience. I take a different attitude to rolling now – it is one of the first skills I encourage amputees to master.
Some coaches do try to understand and adapt. Richard Uren (Paddlecrest) is a well-known and respected BC L5 coach who does have the courage to put himself in our shoes. I clearly remember him simulating a student who had accidentally set  the footrests at two different distances – this to a group of coaches learning to deliver skills training in a moderate water environment. It was hilarious to see him trying to be effectively "one-legged". He's the only person I've seen do this and I very nearly capsized laughing! Of course, he eventually got both feet sorted out.
Empathy, not sympathy
The common theme here is that it's impossible for anyone with two legs to fully appreciate how it feels for us, no matter how hard they try. The UKCC coaching scheme places great importance on empathy but it's often very hard for coaches to teach techniques that they cannot physically demonstrate or imagine. If a one-legged sea kayaking coach had existed when I started paddling I would have found that of huge value.
Does the reverse follow – that an amputee cannot teach skills to "able-bodied" paddlers? Well, it depends on the topic. There are some techniques I cannot demonstrate but there is usually a work-around. Remember, Although I do know what it feels like to have two legs, it's been a long time since I had more than one.
Can amputees actually "do the eskimo roll"? The answer is a definite yes, although just like our two-legged friends, sometimes we fail too. Apparently we are all "just between swims!" Seriously, being an amputee doesn't stop you from rolling. You're more likely to have a side that's easier (and you have an excuse) but provided you can connect well with the kayak then you will be able to roll. Can your coach feel what you are feeling? If they are also an amputee, then yes.
Integrate, not segregate
I can see no need for segregation in the world of sea kayaking. However, there are times when a different approach and technique will help you achieve your goals. I am currently working with British Canoeing to develop an Adaptive Coaching Module. Aimed at coaches and leaders, it will ensure that they have a greater understanding of your capabilities, limitations and determination to succeed.
I do not believe that amputees (or anyone for that matter) should be entitled to short-cuts or reduced assessments. Far from it – I strongly believe that high standards are required, especially in a marine environment where those skills will be essential to your survival. However, adapting training methods to ensure you attain those standards is essential.
Coaches need to be capable of thinking and acting imaginatively about needs and restrictions. Is your coach capable of tailoring the training they usually provide to suit you?
Confidence? Show it off!
La Pointe du Raz is famous for immense tidal races – the biggest tides of the year were too much to resist so we went out to play for three days. The other five guys in the group are highly skillful individuals, yet none of them were prepared to take just one foot off the footrests to see what that felt like in the chunky conditions. I say chicken! They all seemed supremely confident in the conditions we encountered – what was there to fear?
Perhaps the final question is "can someone with a prosthesis really achieve in sea kayaking?".  Of course you can – define your own goals then just do it.